get the 360 facilities advantage
We deliver facility services and solutions, so our customers can focus on their core business.
Project Management
Working with Omnia360 is all about maximizing efficiency while lowering your costs. Our team can flex project management expertise into your facilities, eliminating the need for you to add full-time resources to manage small- to medium-sized projects.
COMPREHENSIVE
Site-based staff provide all the facility management services you require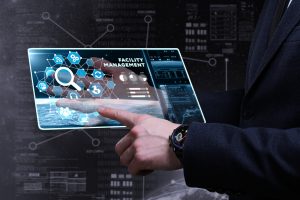 VARIETY
HVAC, janitorial, electrical, plumbing, landscaping/mowing, and more
COLLABORATION
Site-based staff work with your teams for improved facility services
We Work Closely With You
The first step in project management for your facility is coordinating with your team. We work closely with you to gather data, develop a plan, build the team, and implement the plan within your budget and time frame. 
Effective Communication
We pride ourselves on having facilities management expertise. This informs how effective our project management services are, as well as our ability to communicate efficiently and effectively with your team. Our project manager will stay in touch with your team and keep you in the loop daily, weekly, or as-needed with consistent, proactive, honest, and thorough communication.
Understanding the Team
One key aspect of project management involves understanding the strengths and weaknesses of the team. Omnia360's project managers take into account individuals' traits, what they bring to the team, and how to optimize efficiency. We have the objectivity needed to accomplish goals within your timeframe.
Doing Whatever It Takes
From planning and choosing the team to executing the plan and achieving project goals, Omnia360 does whatever it takes to meet your goals on time, on budget, and to your specifications. We'll use automated and digital tools to keep everyone on task, lead the team, check on the daily or weekly progress, and adjust accordingly when necessary.
Contact Omnia360
Do you have a small or medium-sized project to accomplish? Don't want to hire a project manager for something that's only going to last a few months? Contact the team at Omnia360. We can flex project management into your facilities to make the most efficient use of your time and personnel. Call us at (833) 360-6642 or request a free assessment.