get the 360 facilities advantage
We deliver facility services and solutions, so our customers can focus on their core business.
Integrated Facility Solutions
Get more for less with our customized solutions. Omnia360's integrated facility solutions offer cost-effective and efficient packages because you work with a single provider rather than multiple ones. Our clients appreciate the convenience of a single point of contact for all of their facility solutions. 
From HVAC and electrical to landscaping and pest control, we'll create a service package that is right for your facility.
COMPREHENSIVE
Whatever facility management services you need, customized to your building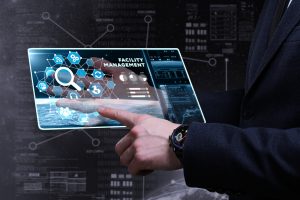 VARIETY
HVAC, janitorial, electrical, plumbing, landscaping/mowing, and more
COLLABORATION
We work with your teams for improved facility services
What Are Integrated Facility Solutions?
Your facility manager has one point of contact instead of several for HVAC, electrical, plumbing, janitorial, clean-up, landscaping, pest control, and a lot more.
Only the Services You Need
Omnia360 recognizes that every facility has unique needs. A one-size-fits-all approach doesn't work. We strive for constant, collaborative communication with every customer to outline specifically what they need. Your needs may change over time, and we can help!
We're open 24/7 for you. Did a pipe break during third shift? We'll send a plumber at 2 a.m. Blow a fuse at dinnertime? One of our electrical contractors will be there at 6 p.m. The idea here is to deliver timely service when you need it, no matter what and when.
Save Time & Mitigate Downtime
Consider preventive maintenance in addition to on-demand integrated facility solutions. Our highly trained staff can come to your place, perform regular maintenance checks, and point out potential problems. That way, you can fix equipment on your terms and your schedule instead of waiting for something to break down and cause major outages and downtime.
Efficiency
The goal of our integrated facility solution is to save you time and money. We work with you to manage projects and buildings, eliminating the need to hire full-time staff or devote lots of time to overseeing vital behind-the-scenes operations.
Contact
Contact Omnia360 today and experience the difference our integrated facility solutions can make to your company. Call us at (833) 360-6642 or get a free assessment.