get the 360 facilities advantage
We deliver facility services and solutions, so our customers can focus on their core business.
Bundled Services
Working with Omnia360 doesn't mean you have to lose your maintenance team. We're here to help you and your team work more efficiently and effectively. Our options let you select the services you need to supplement your existing team and improve productivity. Experience the benefits of bundled services, from lower costs, and greater consistency to achieving economies of scale, while maintaining more oversight and control over your business.
COMPREHENSIVE
Site-based staff provide all the facility management services you require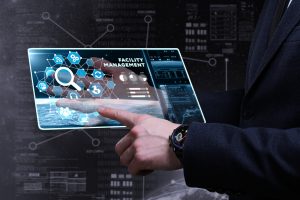 VARIETY
Janitorial cleaning services, HVAC, electrical, plumbing, landscaping/mowing, and more
COLLABORATION
Site-based staff work with your teams for improved facility services
Lower Costs
Procuring multiple services from a single provider lowers the individual costs of each service. Need janitorial services and pest control? Omnia360 can deliver both. Do you require landscaping services and an on-call electrician? Omnia360 comes through to supplement your existing teams or outfit your facility with experts who provide the services you need to reduce downtime and keep your business running at peak efficiency. Outsourcing your maintenance is a cost-effective strategy. 
Cross-Training
Facilities management is all about efficiency. Omnia360 can cross-train individuals for multiple tasks at your building. Let's say you need HVAC and handyman services.  Our technicians are cross-trained to provide both services.  Avoiding trip charges and vendor minimums is a critical savings driver for your business.
Consistency
Bundled services from the same provider mean you get consistency across all services. You don't have to call one provider for janitorial, another for pest control, another for HVAC, and yet another for lawn mowing. At Omnia360, we work with you to design a bundled services plan that works best for you so you can focus on your core business model. All it takes is one call, one point of contact, and one invoice to handle your customized plan for facilities management.
Improved Overall Performance
Let's say you need a janitorial service to come to your facility every night to clean up offices, remove trash, and make your bathrooms sparkle. One of the janitors notices a water leak, a light on the fritz, or bugs in a dark corner. Bundled services from a single carrier like Omnia360 allow the janitor to notify the service provider, who then sends out a plumber, electrician, or a pest control team sooner rather than later to correct the problem. Having all of your facilities management services in one place reduces the time it takes to get services and mitigates communication problems between service providers.  
Contact Omnia 360
Contact the team at Omnia360 to experience the difference that our bundled services can make for your facility management. Call us at (833) 360-6642 or request a free assessment.